Private Classes
Whether you're looking for one of our regular photography workshops in a private setting or want a tailor made experience in a specialized genre, we're here to help.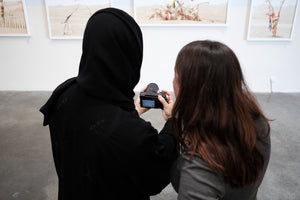 Your Schedule
Have an odd working schedule? We'll work with you to find the ideal time and date to suit your needs so you can learn at your own pace.
Experienced Instructors
We'll assess your skill level and needs before choosing the perfect instructor for you. All our instructors are hand-picked and go through a rigorous selection process.
Private Groups
Do you have a team of staff, or group of friends you'd like to take a class or team-building session with?
★★★★★

For the past year, I've had the privilege to enrich my knowledge, skills and exposure with the talented and outstanding GPP instructors. My passion for photography was gradually taken from one level to the next through the variety of courses offered by GPP.

I am now a full-time photographer. Not only have I secured great knowledge, but I have made life-time friendships with amazing people, improved my confidence and learnt to share my experiences with others.

Amina Sabry

Dubai, UAE
★★★★★

Having attended several excellent GPP workshops previously, I asked them if they could arrange a special session to help get the very best out of my Fuji.

GPP could not have been more helpful. The success of the private session came down to the expertise of the instructor, customised tuition, hands-on experience and sufficient base knowledge of photography and camera equipment.

I would highly recommend GPP as a wonderful learning institute. 

David J Greer

Dubai, UAE
★★★★★

Just did the Photography Level 2 workshop with Laura a couple of days ago and would 100% recommend to anyone looking to sharpen their skills and be part of a community.

A workshop with no judgment, plenty of learning, super cool environment, and tons of fun. Photographers in Dubai, please go over to GPP to help build the community!

Zach Faizal

Dubai, UAE