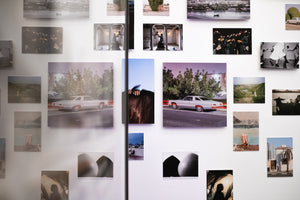 GROUP EXHIBITION OF 43+ ARTISTS
GPP is proud to present #editions2023, featuring a small selection from our fine-art print collection — 'thinking' images from South-West Asia and North Africa.
Since its creation in 2013, the Gulf Photo Plus fine-art print collection Editions, has been contributing to the building of a photography community in the UAE and beyond, by promoting the work of photographic artists from various backgrounds and experience levels. Featuring single images and excerpts from longer series, Editions currently consists of more than 400 works made in Southwest Asia & North Africa, by photographers who are from or have lived in the region, showcasing a diversity of perspectives and approaches to the medium of photography. 
The exhibition aims to highlight some of these perspectives, giving a broad overview of the collection as a whole, as well as bringing to the fore works from Gulf Photo Plus' past exhibitions. The salon wall at the center of the exhibition presents all open editions currently featured in the collection, including works by Tanya Traboulsi, M'hammed Kilito, Amir Hazim, Abdo Shanan, Mohamed Mahdy, Ola Allouz, and many others. 
In featured sections, Richard Allenby-Pratt's Consumption and Abandoned series look at the development of UAE landscapes. Farah Foudeh's Bedu addresses issues of identity and representation, by working in collaboration with the bedouin community in the Wadi Rum desert in Jordan. Claire Rosen comments on the tradition of carefully crafted representations of the natural world in colonial history, while Augustine Paredes' works link back to his first two self-published books – Conversations At the End of the Universe and Long Night Stands With Lonely, Lonely Boys – which examine the ephemerality of human existence and tenderness in human relations through a combination of poetry and photographs. Preet Uday's distinct dream-like treatment, and Preschelle Ann Bigueras' commitment to film photography, show the varying and contrasting ways in which it is possible to capture the environments around us in the UAE. 
Hussain AlMoosawi presents five new photographs from his ongoing Facade to Facade series, documenting the architecture of Abu Dhabi and Dubai, with increasingly more attention in his process being placed on research about the featured buildings as the project continues to expand. 
As a continuously changing, living body of works, Editions seeks to instill a habit to display, collect, treasure and support work from the region, and to surprise, amuse, challenge, and offer a contemporary and perhaps even complicated perspective. We hope you leave with an expanded view of the medium of photography, and an enthusiasm for what it has to offer.
Opening Night
Check out images from the opening ceremony at our gallery space, which took place from 8PM onwards on Thursday, September 28th as part of Alserkal Lates.

We were so pleased to see so many community members, and new faces alike! Thanks for joining us!